rise from the dead and live again- there is hope. It won't always be like this. I know when we are going through something, it feels like it will be like this for a 99 years, but it won't.  The angel of god is in every change.
I got into the school today and got to play the harp. I started Caro Nome.
Need to read Mediation opening statement and memorize it.  gonna try to do video today.   I did the video on camera and I look like a doof!  I emailed myself and tried to upload it here into my blog but it did not go through.
I just read something in Negotiation book about visualizing success and playing piano or harp in your mind, not with fingers on the keys and that brain capacity and neurons still increased.  It is from the book Mind Sculpture by Ian Robertson.  It goes on to talk abut Dawn Steel visualizing success and it worked.
Last night teenage girl had friends over and they slammed door.  I guess the police showed up and broke up the party.  I want to live alone! or with my own family.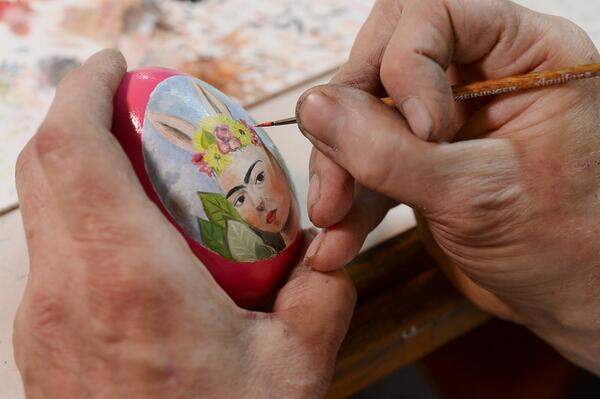 Denver family and hand painted Easter eggs.
e.e. cummings
1
It was one of those clear,sharp.mustless days
That summer and man delight in.
Never had Heaven seemed quite so high,
Never had earth seemed quite so green,
Never had the world seemed quite so clean
Or sky so nigh.
And I heard the Deity's voice in
The sun's warm rays,
And the white cloud's intricate maze,
And the blue sky's beautiful sheen.
2
I looked to the heavens and saw him there,—
A black speck downward drifting,
Nearer and nearer he steadily sailed,
Nearer and nearer he slid through space,
In an unending aerial race,
This sailor who hailed
From the Clime of the Clouds.—Ever shifting,
On billows of air
And the blue sky seemed never so fair,
And the rest of the world kept pace.
3
On the white of his head the sun flashed bright;
And he battled the wind with wide pinions,
Clearer and clearer the gale whistled loud,
Clearer and clearer he came into view,—
Bigger and blacker against the blue.
Then a dragon of cloud
Gathering all its minions
Rushed to the fight,
And swallowed him up in a bite;
And the sky lay empty clear through.
4
Long I watched.   And at last afar
Caught sight of a speck in the vastness;
Ever smaller,ever decreasing,
Ever drifting,drifting awayInto the endless realms of day;
Finally ceasing.
So into Heaven's vast fastness
Vanished that bar
Of black,as a fluttering star
Goes out while still on its way.
5
So I lost him.   But I shall always see
In my mind
The warm,yellow sun,and the ether free;
The vista's sky,and the white cloud trailing,
Trailing behind,—
And below the young earth's summer-green arbors,
And on high the eagle,—sailing,sailing
Into far skies and unknown harbors