so I had chemo this morning and it went smoothly. I won a home made hat. they gave me nausea medication and I am gonna go eat now.  Looks like I am going to be okay and live a long, long time. Live to play the harp, live to teach, live to minister, live to prophesy, live to work and earn money and maybe even get married someday. Someone I can do an emotional freefall with.   I prayed. I got an email from trader Joe's that they forward my comment to the manager at the store where the guy gave me flowers in order to r3ecognize him for his kind gesture.
then I went to school and played the harp. I ordered Angel by Sarah McLachlin and the study by Joh Williams.  I am praying and asking God about either moving my harp here or going to go get it. That would mean a trip to COLORADO. YAY!!!
http://www.hotspringspool.com/swim
even though I Like the water and so does this dog.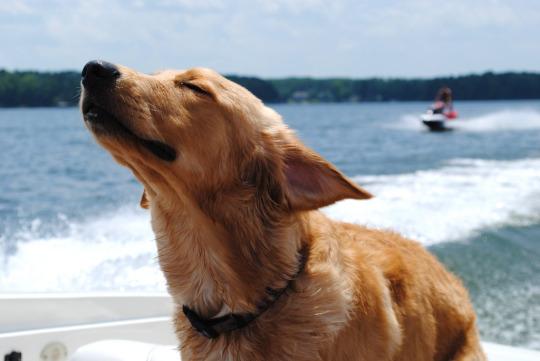 I read an article about Orlando yesterday because I have been thinking of returning , but if I do go back, I will have a job set up. I am going to apply for a job at Disney here. They were one of my resentments that I had to let go of, so I am going to ask my sponsor first. I may never go back!
Isn't kindness and honesty a great thing? instead of trying to lie and rationalize and re-write the past?  the bible talks about the gift if discernment and discerning a lie, that's a nice way of saying I have developed a great bullshit detector. the stories are inconsistent and some people are just pathological liars.  We talk about that in recover and how some people can recover if they have the capacity to be honest. But if you are not willing to be honest and live a lie and hurt and bully, that is energy I let go of and loose and command it to back back to hell or wherever the holy spirit tells it to go. NOT PLAYING anymore!   You need one to protect yourself and when you love horsefly, you protect yourself.  Some people do that ,and I do not believe their lies nor want their energy in mine. therefore I loose them and let them go and thank them for teaching me how NOT TO BE!
going on a job interview tomorrow. UPDATE: went on job interview. I put on the wig and did light makeup. I looked exactly like the lady who was interviewing me. I said that if I got the job, I would stay for two years. I could move the harp here. I could play the harp at weddings. It kind of gave me a glimpse of what I can do. I would have to stay in California for two more years though. At any rate, I have to get well, I have to get employment, I have to play the harp, I have to get anchored, I have to deposit and not spend, I have to establish credit and I have eventually get my own place. I am glad I took action.
When you forgive, and pray and take action and let go, and ask. Believe and receive.  but let go of the deep hurt, the grudges and the fears. There is no fear in love.
Mark 11:24
…23"Truly I say to you, whoever says to this mountain, 'Be taken up and cast into the sea,' and does not doubt in his heart, but believes that what he says is going to happen, it will be granted him. 24"Therefore I say to you, all things for which you pray and ask, believe that you have received them, and they will be granted you. 25"Whenever you stand praying, forgive, if you have anything against anyone, so that your Father who is in heaven will also forgive you your transgressions.…